Trip Bean in the early years.
about beans boats - a family business
Beans Boats was started up in the mid 1930s by W.J Bean (TRIP) and his brother E.A.K Bean (KITCH). They stopped during the war years as Kitch joined the navy and Trip the coastguard. The business started up again in 1946 and was later joined by Trip's sons, John and Graham, as they left school in the late 1950's.

Until 1978 the boats ferried passengers to and from Blakeney Point nature reserve, leaving from Morston quay at high tide and from the lower harbour at low tide with people often having to paddle across the marshes to catch the boat! For some years in the 60s and 70s, Graham ran his boat from Blakeney Quay before returning to Morston in the 1980s.

Banner: Trip Bean in the early years. Above Trip in the 70's at Morston Creek with the first Seal Boats and later in life
The seals were protected in 1976 and from then, gradually became tamer. It was then that Beans Boats began trips to take people to see the seals, combining these with a landing on Blakeney Point on the high tide. At that time, the trips ran only during the summer months and the family would have to do other jobs over the winter such as worm digging.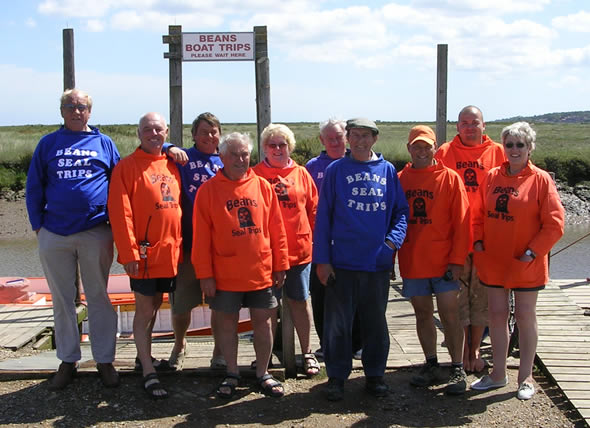 Beans family and crew posing at Morston Quay
Over the years the boat trips gradually got more and more popular. John's son, Steven, joined the business in 1989 having done 6 years in the army and Graham's elder son, Jason, joined in the early 1990's after leaving his career as a chef with his younger son, Matthew, joining the business in 2000. Telephones and bookings are managed by other family members which means that the business is truly family run with the assistance of a few close family friends.
There is also the next generation growing up to hopefully carry on the family business: Steven's son, Joshua (age 14), Jason's son, Jonathan (age 12 ) and Matthew's son, Harry (age 4)
Having started all those years ago with just the one boat, we now have 6 purpose built ferries fitted out to Maritime Coastguard Agency standards.